I've been called a treehugger more than once in my life, and while I know the comments weren't intended as such, I always take them as compliments. As a sobriquet it's both true and false: true, because I do spontaneously hug exceptionally handsome or venerable trees; and false, because compared to the practiced professionals who scamper up and down tree boles every waking hour of their lives, my embraces are too amateurish to qualify as authentic hugging.
Sure, as a kid I would climb trees and hang from the larger limbs by my knees. We had several sturdy silver maples in our yard and I loved spending time in these leafy hideouts. But there's more to being a treehugger than practice. I simply don't have the body to become world-class, or even marginally proficient. To compete with the Eastern gray squirrels (Sciurus carolinensis) in my neighborhood, whose arboreal acrobatics would make a Cirque du Soleil gymnast green with envy, I would need a significantly different anatomy.
For example, I would need to lose enough weight (and height) to allow just enough friction to be created by the pressure of my paws gripping a small branch to overpower gravity's bullying attempts to push me rudely onto the ground.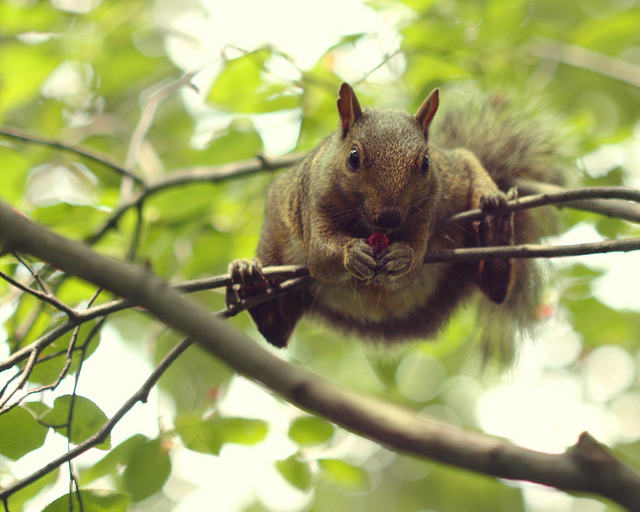 A better sense of balance would also be necessary if I were to have any success as a legitimate treehugger. I'm not saying I trip over myself on a daily basis but, as friends and family can attest, when I do fall it's Charlie-Brown spectacular… and usually on my face.
Tree squirrels, in comparison, are masters at controlling their center of gravity. This is due, at least in part, because they can hold on equally well with both hands and feet. Here again I'm disadvantaged, and I place full blame on evolution, my DNA, and whichever hominid ancestors of mine climbed down from a tree on an African savannah. At some point a decision was made by someone to stand upright and use feet almost exclusively for the precarious task of bipedal perambulation. There are times when I'm not at all convinced this was a better way to go than remaining quadrupedal.
My filed and brightly polished toenails would have to go, replaced by strong, sharp claws that could easily pierce porous bark or hook onto an uneven edge (completely impractical for someone who wears socks and sleeps under a blanket, though). Whereas humans, including me, need at least three points of attachment when climbing, this spiky adaptation allows squirrels to secure their position with only two attachment points, and to grasp new surfaces at angles most animals would find impossible.
Most important of all, I would need feet that can pivot on a swivel joint, allowing my ankles to rotate backwards so I could hang from nearly vertical surfaces.
If I'd been born a flamboyantly fluffy-tailed rodent then maybe, just maybe, I could latch on to a wrinkle in the tree rind and hang by my toenails while enjoying a leisurely acorn snack. Alas, 'tis the fault in my stars to peer ever and enviously skyward, my feet with their simple-hinge ankles planted on the firmament at the base of the trunk, and looked down upon with curiosity and pity (I assume) from the higher-ups.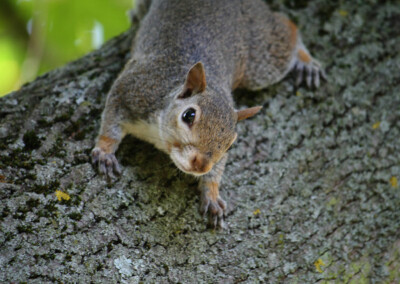 ---
---
© 2017 Next-Door Nature. Reprints welcomed with written permission from the author. Thanks to the photographers made their work available through the Creative Commons license:

Mr.TinDC

,

Artful Magpie

,

JoeInQueens

, and

Jed Sheehan

.