Ward Buckner and Carolyn Willmore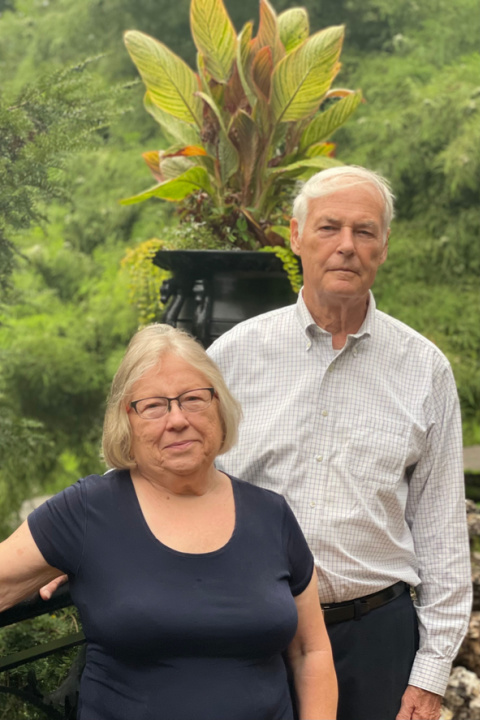 Wardwell Buckner has been a member of the Lafayette Square community since 1974. On the 150th anniversary of the ordinance that created Lafayette Park in 2001, Ward applied for the charter that founded the Lafayette Park Conservancy (LPC). Three years later, he worked with a group to write the Master Plan that continues to guide the park today. Part of that plan recommended creation of a private group to support park restoration. A board of directors formed, and Ward served as secretary for several years. He was president from 2013 through 2020, and continues to work both in the park and on the Board of Directors. 
Carolyn Willmore joined the Lafayette Park Conservancy at its first meeting in 2003. She has been a member of the Board of Directors ever since, holding the positions of secretary, vice president and president. Carolyn has been instrumental in many LPC functions, writing historical essays and booklets, lecturing, fundraising, and conducting community outreach. The Grotto and Cook Pavilion gardens are the result of her horticultural skills, and she continues to dedicate many hours to the tending of both gardens and park activities. 
In memory of Ruth Kamphoefner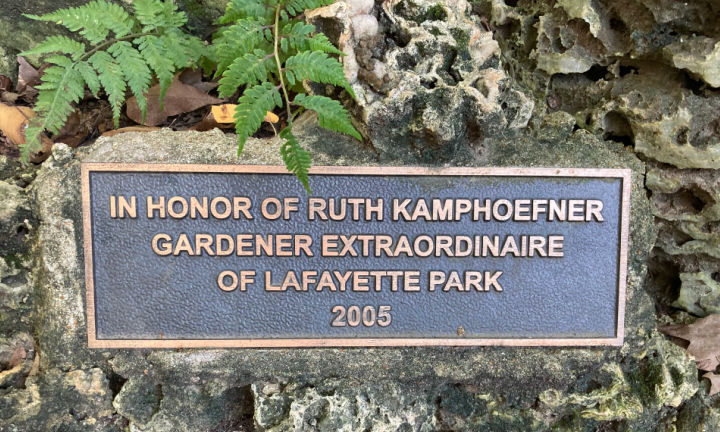 Both Ward and Carolyn have continued their service to the park in the spirit of the late Ruth Kamphoefner. A plaque placed in her honor sits beside a bench overlooking the Grotto pond.
Ruth arrived in 1971 at her newly bought ruined house. Despite being widowed with five young children, she worked tirelessly over many years, and seemed to be everywhere at once in Lafayette Square and Lafayette Park. Clearing weeds, composting, planting and pruning in the park was a small part of her range. Ruth even taught Carolyn in second grade at Emmaus Lutheran School in St. Louis! 
We celebrate and thank all three of these urban pioneers for their many years of making Lafayette Park beautiful.