World War II had barely ended when researchers began to notice a major migration under way in North America, from undeveloped and agricultural areas to cities and suburbs.  Now, in the early 21st Century, the urban population is over 20 times that of the early-1940s — in some places, more than 50% higher than the surrounding rural landscape. With growth has come all the problems that naturally occur as a community becomes overcrowded: housing shortages and squatting; dumpster diving; increases in theft and property damage; sanitation-related public health concerns.
All of this has a tendency to make established residents less tolerant of immigrants, even when the new neighbors are clever, ambitious, hard-working, good parents, and undeniably cute as all get-out.
Raccoons (Procyon lotor) may be new to the urban scene, but wait a minute…
You thought I was talking about people?
That's understandable, I suppose. Just about everything I've said to this point could apply to humans as well. There's no denying that Homo sapiens is now an urban species. The tipping point (>50% of humans living in areas of high population density) came around 2007.
Each year, more of us are lured by the promise of better-paying jobs, more housing options, access to social services and chain restaurants, more shopping choices, a larger dating pool, and high-speed Internet connections. In other cases, concrete tentacles sprawl past the city limit signs to grab up and devour surrounding countryside, forcing rural residents to choose between relocating to land that hasn't yet caught developers' eyes and becoming accidental townies.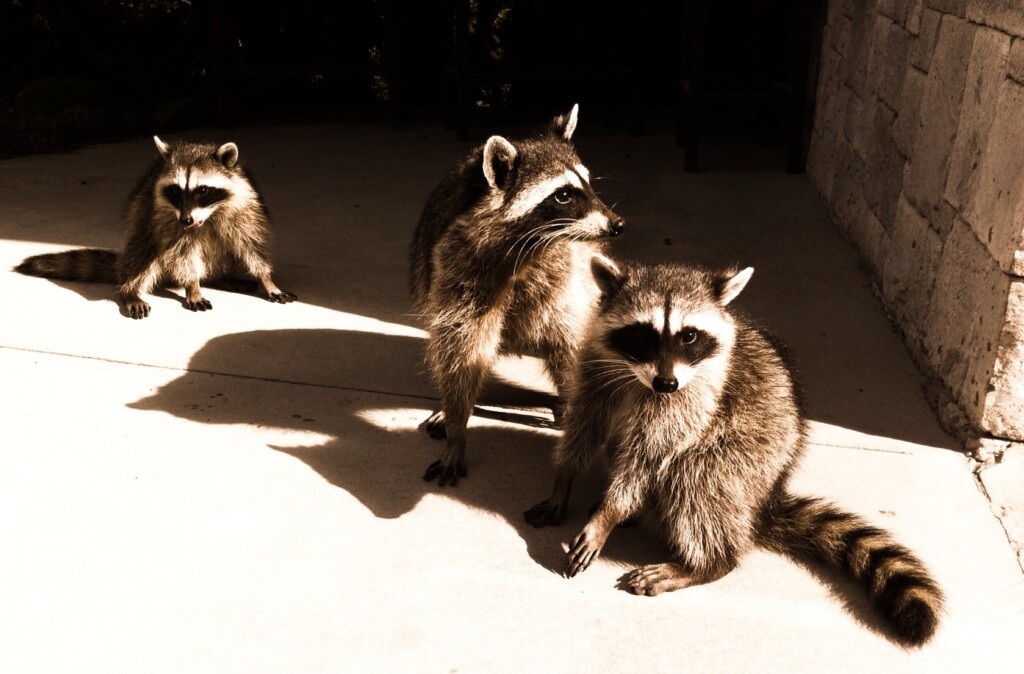 The "built environment" is intended to meet the wants and needs of our own kind but raccoons may be better suited for what we've constructed than the target real estate market.
Raccoon Nation, a 2012 documentary that aired on the PBS Nature series in the U.S., and in Canada on the CBC News Network series The Nature of Things with David Suzuki, made a strong case in support of that thesis.* As filmmakers follow the furry urbanites in their native North America (including Chicago and Toronto — "the raccoon capital of the world"), as well as in Germany and Japan (where they were intentionally introduced), it's hard not to notice the similarities between those who construct cities and those who exploit them and their work.
How alike are we? Let's build this case from the ground up.
Feet

— humans and raccoons are both plantigrade. In other words, we walk with the entire foot planted firmly on terra firma… make that asphalt. There are other examples (elephants, kangaroos, and pandas come to mind), but the majority of mammals walk on their tippy-toes (more on this in a future blog post).

Hands

— okay, we tend to refer to the front limbs of quadrapedal creatures as legs and feet, same as the back limbs, but the corresponding feature on bipedal creatures are arms and hands. Regardless of the nomenclature used, look closely and you'll see one reason it's so hard to invent a raccoon-proof container—a paw that looks a lot like the palm of your hand and a digit that's as close to the functionality of your opposable thumb as it gets for non-primates.
Stomachs

— the best way to avoid starvation long enough to pass your genes along to the next generation is to cultivate the ability to eat anything and everything you can cram in your mouth that contains a calorie. The human diet is astonishingly diverse, and urban raccoons gobble up everything we leave on our plates and toss in the trash… plus a lot of stuff we would rather not eat. Some researchers suggest that omnivory played a crucial role in human development—by providing a more consistent and more nutritious diet, and because finding potential new foods, determining whether they are edible, and figuring out how to eat them pushed our gray matter to create new neural pathways. Which brings us to…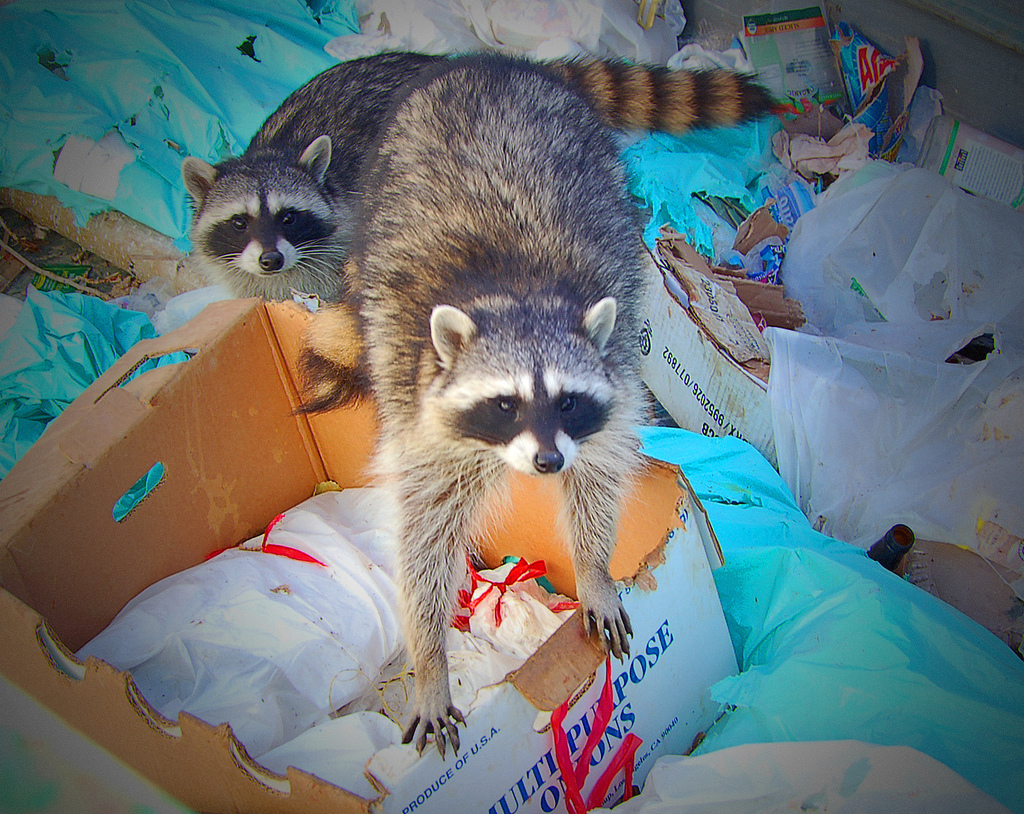 Brains

— raccoons and people also share a high level of behavioral plasticity, a term that implies the ability to change. Flexibility, adaptability, and life-long learning (well… we both have that capacity; whether we use it or not is another question entirely). With no email to check, no Facebook feed, no Netflix upon which to binge, no need to commute, and only one significant urban predator (those commuting automobiles), raccoons have plenty of time for learning. Each day is devoted to DIY personal growth, lifestyle enhancement, and honing useful skills, such as:
how to turn a garbage can or dumpster into a convenience store;

how to traverse a fence like a tight-rope (great for avoiding the neighbor's dog);

how to shimmy down a tree branch onto a rooftop;

how to turn a loose shingle on that roof into an attic entrance;

how to turn that attic into a cozy, rent-free nursery.
Whether you find these critters endearing or exasperating, it's never fun to clean up refuse that's strewn across your yard, and there's no denying they can and do cause damage to property.  Ironically, our attempts to outwit them are molding these savvy metropolitan mammals to better fit the world we built for ourselves.
And here's the other reason I will never invest my hard-earned money in some inventor's guaranteed raccoon-proof fill-in-the-blank: because no human being will ever have as much time to devote to keeping a raccoon out of something as raccoons, often working in teams, are willing and able to devote to cracking the code. By trying to thwart them, we're simply selecting for the traits that make a more worthy opponent and a better urban animal. An über-coon, if you like (although, to my knowledge, they haven't yet learned how to call a ride-share driver).
Before you know it, they'll be standing upright in line right beside us at Starbucks, waiting for a Venti Caramel Macchiato to help them wake up for the night shift.
Urban raccoons share another, disturbing commonality with their human neighbors — the toll exacted by easy access to a plentiful, high fat, high sugar, high calorie diet. Diabetes, hypertension, and cardiovascular disease may do more to limit their numbers, in the long run, than all the Hav-A-Heart trap-toting home and business owners, urban wildlife biologists, and nuisance wildlife control operators combined.
Cleverness and dexterity are no match for the fearful symmetry of a predatory heart attack or kidney failure.
No wonder they call it the urban jungle.
---
© 2012 Next-Door Nature— no reprints without written permission from the author. Thanks to the following photographers for making their work available for use through Creative Commons License:  Liz West (supper club); jmtimages (mother & child);  

John Biehler

(3 sepia raccoons); Stuti Sakhalkar (human handprint);

Jon Stogner

(raccoon pawprint);

Zeetz Jones

(dumpster );

David~O

(bipedal).