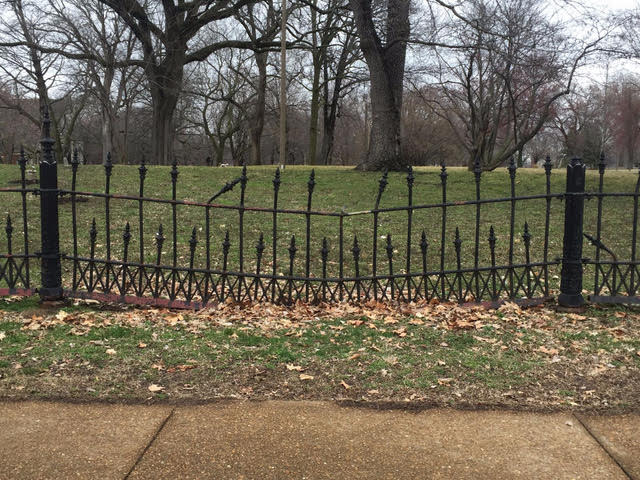 The historic 1869 Lafayette Park fence is the focus of an ambitious multi-year Conservancy restoration project. Robinson Iron of Alexander City, Alabama was selected to undertake an initial test phase. Six fence sections from the southeast corner of the park were dismantled and transported to the Robinson workshop. Once disassembled, patterns were made for the replacement of broken and missing parts.
The restored fence sections were returned to St. Louis and installed by Empire Fence Company in May, 2021. Included in the new sections are newly fabricated fence "skirts." These were originally part of the fence, removed by the city during an earlier refresh. With your support, the LPC will restore additional historically accurate sections along Lafayette Avenue.
Fence Gates Restoration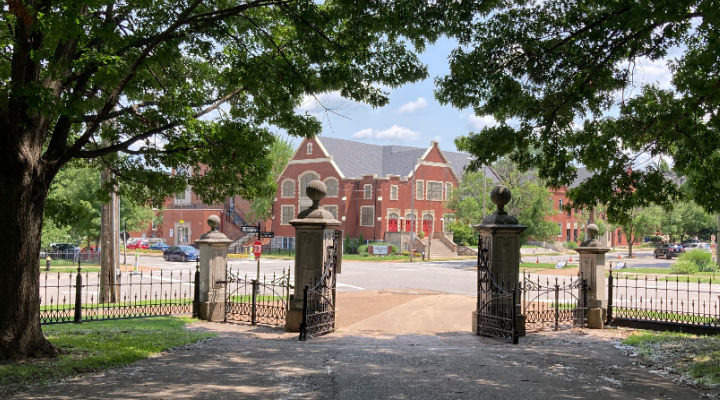 Many of the iron gates in the Lafayette Park fence have disappeared over the last 155 years. The replacement of them with historically accurate replicas will continue with your support.
In addition to damage sustained by many sections of fence over the past 155+ years, fourteen heavy iron gates are missing from several entrances to the park. As originally designed, each of the four corner entrances has four large limestone gate posts and a central pair of gates large enough for vehicles to enter. These are flanked by smaller paired pedestrian gates. The four middle entrances have single pedestrian gates flanked by a pair of gate posts.
The Lafayette Park Conservancy (LPC) selected Perpetua Iron, LLC of Old North St. Louis to restore and replace the park gates. The project began with replacement of two missing pedestrian gates at the heavily used Park & Mississippi Avenues entrance.
Two sets of pedestrian gates at this entrance have now been restored. Each set has one new gate, one cleaned and repaired old gate, and two new non-supporting fence posts. The mid-Lafayette pedestrian gate has also been restored and installed in an open position, accompanied by newly fabricated central gates installed in a closed position.