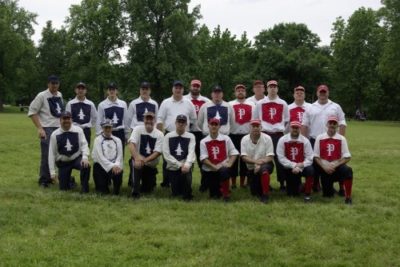 The Saint Louis Perfectos and the Lafayette Square Cyclones are base ball clubs playing by the rules and customs of the 1860's. The goal of the clubs is to spread the game of vintage base ball, providing an entertaining and fun atmosphere for all. As member clubs of the Greater St. Louis Base Ball Historical Society, players of all ages (over 18) and skill levels are welcome to join.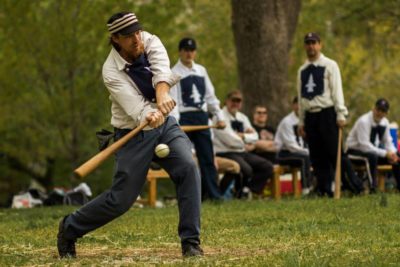 The clubs are dedicated to preserving and demonstrating the great game of base ball as it was played in the mid-19th Century. In a nutshell, that means they pitch underhanded, catch the ball barehanded, and swing wooden bats the size of telephone poles (well, some of them do). All of this is done in grassy meadows under the summer sun with some of the craziest and most fun people you'll likely ever meet.
Historic Lafayette Park is the home field for both the Perfectos and Cyclones. The teams feel it is important (and historically significant) to play home games at a public park where residents can enjoy watching and participating. With its rich history, Victorian-era personality and a vibrant surrounding neighborhood, Lafayette Park is the ideal location for the teams' home games.
Watch for the "Vintage Base Ball Today" signs and head to the Multi-Use Recreational Field, near the northwest corner of the park (at Missouri and Park Avenues). There is no "field seating" or Cracker Jack vendors for these games, so bring your own lawn chairs and refreshments.
For a schedule of all Lafayette Park activities, including vintage base ball games, visit our Events Calendar Page. Cyclones and Perfectos Facebook pages are found by clicking each team's link above.