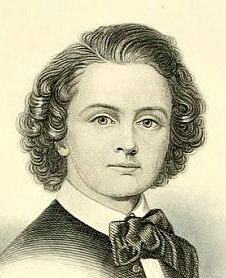 Harriet Hosmer (1830-1908) was a famed neoclassical sculptor in the last half of the nineteenth century.
She was born in Watertown, Mass in 1830 and raised by her physician father. He encouraged Harriet's physical fitness after her mother and three siblings died of tuberculosis. He also nurtured an intellectual independence and supported her determination to succeed in sculpture; an exclusively male profession at that time.
Harriet enrolled at Mrs. Sedgwick's School in Lenox, Massachusetts, and developed clay modeling skills. Sculpture was a narrow field for Americans of the first half of the nineteenth century. A study of anatomy was essential for a sculptor of the human form. Human anatomy, however, which necessitated the study of naked bodies and dissection, was off limits to women.
Harriet applied to medical schools in the East but was denied entry. Through the intervention of Wayman Crow, father of her close friend from Mrs. Sedgwick's, she was allowed to study anatomy at Dr. Joseph Nash McDowell's medical college, recently established in St. Louis. There she received a degree in anatomy. McDowell's school later became part of Washington University in St. Louis, co-founded by Wayman Crow and William Greenleaf Eliot.
Study abroad was also considered essential for a sculptor. Students headed to Italy where there were countless examples of classical sculpture. Harriet moved to Rome in 1852, and studied under English neoclassical sculptor John Gibson. She joined an international circle of artists and writers, including actress Charlotte Cushman, poets Robert and Elizabeth Barrett Browning, and writers Henry James and Nathaniel Hawthorne. She lived in Rome and England for most of the second half of the nineteenth century.
Sculpture was a challenging profession for Americans of that time, and commissions were hard to come by. Back in St. Louis, Wayman Crow commissioned a marble bust, her first life-sized figure, in the early 1850s. Oenone is one of several works by Hosmer in the collection of the Mildred Lane Kemper Art Museum at Washington University.
Crow also helped secure the commission for a full size figure of Harriett's choosing for St. Louis's Mercantile Library. That marble figure, Beatrice Cenci is on display at the library.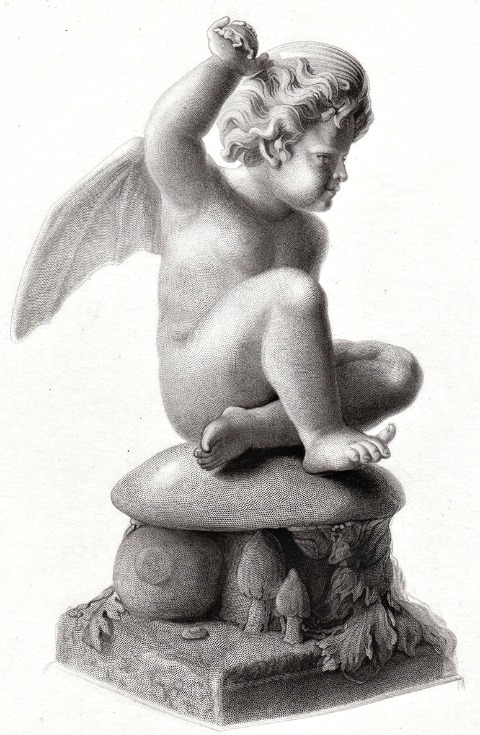 Harriett Hosmer enjoyed a successful career. A figure of Puck she created was a great success and eventually sold fifty copies including one to the Prince of Wales.
Other works can be found at the Art Institute of Chicago (Zenobia, Queen of Palmyra), Metropolitan Museum of Art, N.Y. (Clasped Hands of Robert and Elizabeth Browning and Daphne), Detroit Institute of Art (Medusa) Smithsonian Institution, Cleveland Museum of Art, and Courtauld Institute of Art in London.